About Cornerstone
Staffordshire Bull Terriers
---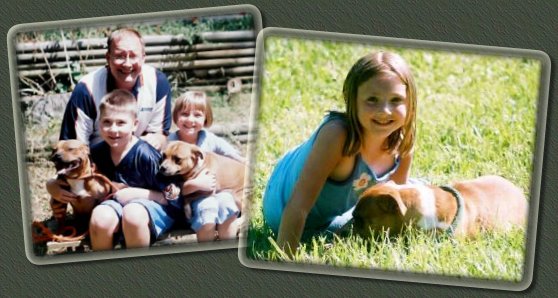 Our children led us in the direction of Staffordshire Bull Terriers. As we went to shows with our Bernese Mountain Dogs, the children were always drawn to these solid little dogs which so clearly show both the "bull" and the "terrier" in their appearance and attitudes. Whether called Staffords, Staffy Bulls or just Staffys, these muscular, natural athletic dogs always elicit a smile or laugh at their very appearance and attitude.
We acquired Mini, our first Stafford in 2000 and she quickly finished her AKC championship in just 3 weekends of showing.
In the fall of 2001 we were very excited at the arrival of our South African Stafford bitch, Thorax Precious Thyme from the Pretorious family of South Africa. This started us on our journey of breeding a family of South African-based lines of Staffords here in the US.
Meg finished her championship in very limited showing topped off by capturing Winners Bitch and Best of Opposite Sex to Best of Breed at the 2003 SBTCA National Specialty.
In 2003 we were able to import 2 very special puppies, Thorax Solo Thyme and Enchantrix Hot N Spicy. They are certainly meeting and exceeding our expectations as Meg has done.
We want to selectively breed and keep a line bred base of dogs going back to great dogs like SA CH Magliam the Bronx Bull of Tenacious, SA CH Odenda's Hitman of Ogusto, and SA CH Zigerak Hot Stuff of Enchantrix as well as bitches such as Thorax Titian Queen of Ringmaster and Thorax Kiss Me Kate. Incorporating different lines that share the same physical traits (pheynotype) will enable us to keep the type and balance we have while correcting and adding other traits. Adding Belnore Dream Keeper (Beau) was just such an incorporation. 5/8 Judael and 3/8 South African lines he provides some very interesting traits and a quality pedigree that should mesh well with our South African girls.
We screen all breeding stock for hip dysplasia and eye diseases and are very interested in the continuing education of other heritable diseases that may plague the Stafford and other breeds. Only through informed decision making can one produce quality and healthy stock for breeding and companions.
Our dogs are available at stud by private arrangement. We require all prospective bitches to be health screened.
If you have a question about Staffords or our dogs, please email us.
For more information, recommended readings, etc. try these Stafford links:
Is a Stafford right for you? http://clubs.akc.org/sbtci/staffforyou/intro.html
Breed History http://clubs.akc.org/sbtci/history/sbtcihistory.html
Illustrated Standard http://clubs.akc.org/sbtci/standard/Illustandard.html
Recommended Reading http://clubs.akc.org/sbtci/staffforyou/bibliography.html
Frequently asked questions http://clubs.akc.org/sbtci/staffforyou/staffordfaq.html
Breeder Links:
THORAX STAFFORDS
STRONGFORD STAFFORDS
BULVAH STAFFORDS
CLASSY STAFFYS (USA)
BENMAR AMERICAN STAFFORDSHIRE TERRIERS
---
Home // About Us // Girls // Boys // Puppies // News // Email